Mentions
For people that asked to be @ed throughout #poll posts made here and here as well as DMs.
This section is up here to avoid spamming three parts and because this appreciation thread is longer than 32k characters… that and the dumb 25 mentions limit per post.
...

---

@Aeming
@Agayracer
@Bow-of-Sacae
@Caleb
@CluelessStray
@CrystalElemental
@dimitrisnoodlehair
@E1337gard
@El_bastrad
@Everlasting99
@Fresh_Tomatoes
@George_Calibur
@GetKosiorekt
@Heryna88
@Luffytaro
@Kuribabylon52
@Master_Squalala
@Master-of-Old
@MisoSoup247
@moomoo
@NickofTime80
@nobody625
@NpcLucario

The rest of the mentions are in the first comment.

---
---
Hey guys! This has been a long anticipated moment for me, initially, I was hoping I could make this thread whenever I attained a certain goal but that's probably too much for my premises right now, considering my list of favourite grows.

So I decided to go ahead and set this plan in motion now.
So let's get started.
Introduction
Updated: Feb. 24th, 2022.
Hello all, after months of absence, I, af1899, am finally back on my main account, and decided I'd update this post, so let's do it.
In this post I'll talk about my favorite fictional character, that's none other than Idoun (イドゥン) from Fire Emblem: Sword of Seals!
Who's she?
Today I finished a review on her Ascended alt, it goes in-depth about her story, personality, etc. please check it out!
(Old text in case you prefer that)

---

It's modified a little but still mostly intact

She's a Divine Dragon, which are special beings in charge to keep order in Elibe and are believed to be among the strongest of their kin — she was one of them, until a vicious war that took place a thousand years ago prior to the events of Sword of Seals that's known as [The Scouring], in which the manakete (dragons with the power to temporarily transform into human-like figures and viceversa, since it took them a lot of energy to stay transformed, they relied on special shards that contained their power and allowed them to transform at will) and humans (the ones that started this war for conquest) fought for who was going to dominate Elibe, as dragons were losing in numbers and humans were rapidly multiplicating, the manakete were starting to be cornered by the legions of humans that were in clear advantage until they had to resort to creating a Demon Dragon, a corrupt and powerful presence able to create mindless pawns that only know how to fight and kill, for that, they needed a Divine Dragon, most of them managed to escape since they refused to help the manaketes, but one of them was caught and had their soul destroyed so that she could be controlled in the human's enemy's favor: that was Idoun.
Some of the most skilled warriors and important figures from Elibian lore were chosen to wield special relics with immense power that are capable to tear through the tough scales of the dragons, there were 8 weapons and one for each of those heroes, known as the Eight Legends of Elibe, they bravely drove away the multiplying manaketes.
There was another important figure that belonged to the kingdom of Bern, a man known as Hartmut, who founded that very kingdom, had possession of the [Sword of Seals], an unrelated weapon with the power to seal dragons away and adjust its power to the user's feelings, Hartmut felt empathy for the poor Idoun, who was staring at emptiness, as if in a sea of darkness, he started his attack, and she reacted quickly to transform, eventually, she's sealed by Hartmut in his kingdom.
Prior to the events of Sword of Seals, after The Blazing Blade, a grown-up Zephiel, who we knew was at first a young, kind and wise guy, has grown up to become nothing short of a tyrant who wants to gift back the whole continent to the manaketes that lost in The Scouring, Zephiel unsealed Idoun and she became something like his personal assistant, she only listens to Zephiel and is tasked with "liberating" Elibe from the human race to replace it with a manakete-based society and repeating the past events.
Roy and his growing army, gathered to free Elibe from Zephiel's ambitions, even after his death by Roy and his company, the remnants of his forces, and Idoun, continued to try carrying out their plan until their last breath.
During the game, there are eight optional missions that Roy can complete to get the powerful relics that were mentioned, starting with [Forblaze], and ending with [Apocalypse], if he got them all and didn't break said weapons, after Zephiel is defeated, the weapons will line up to light a way towards an ancient building in which Idoun resides at (to be exact, a temple, said to grant power to the dragons to allow them to stay transformed), before accessing it, Roy fought the last of Zephiel's forces led by Brunnya (aka: Brenya), she was the third of the Dragon Generals of Bern and a talented magician with the power of [Fimbulvetr].
As Roy tackles the structure inside, he finds multiple of the manaketes ready to assault him, there, he's greeted by an illusion created by one of the few, remaining self-sentient manaketes, named Jahn (who agreed to help Zephiel and protect Idoun), this guy:



As Roy advanced deeper in the structure, Jahn answered more of Roy's questions until they eventually met, and Roy wins.

Advancing further in the temple, Roy and his company enter a large gallery, in which Idoun stands quietly in the other end of the room, like before. Roy tries to reason with her but fails to as she expresses what she felt while sealed and carries out Zephiel's absolute orders without hesitation and willpower of steel.
Roy remembered the flashback from when he retrieved the [Sword of Seals] and realized he can rescue Idoun from this destiny like how Hartmut did, he really wanted to rescue her, and help her recover her destroyed soul.
He manages to defeat her and bring back peace to Elibe, but the temple starts to crumble apart and Roy decides to take Idoun to Arcadia, a village where a few of the more peaceful manakete lived isolated in the Desert of Nabata, Roy was there before, during his quest on freeing Elibe and previously helped the locals, including its Elder. He decided to ask the local Elder to try restoring Idoun's soul, he succeded, but she was still emotionless… well, at least she wasn't willing to continue trying to "liberate" Elibe.
While Roy was talking with the Elder inside Arcadia, Idoun and Fae were strolling in the outskirts, Fae has shown Idoun what a tree is and that it has yummy fruit, to make it fall down, she hits the tree and the fruit — a coconut, falls on her head, resulting in a small, funny scene that made Idoun laught spontaneously, Fae was overjoyed and went to notify Roy of this.

---
For a more in-depth anaylsis on Idoun's character, I highly recommend reading Skworter's work: [In the Mind of Idunn].
My story with her
This is an introduction as to how I've came to consider her the best girl, pretty much like how we have our best boys and/or our best girls — those definite favourites that stand atop a pedestal and can't be robbed of their post no matter how much time flows.
Let's get started with , I'll hide my history right here so you can choose to read it or not, I've shared it before in more resumed ways but I took the time to tidy it up and try to research a little:
...

---

It was one day later in the year 2014,I would be delighted to remember exactly when but I actually forgot, still I'm pretty sure that was the year, I was part of a Latin American Facebook group about Metroid that was founded a November 16th, 2014… naturally, you'd wonder what the heck does the group of a completely different franchise has to do with Fire Emblem, well… turns out someone there published the European ROM for Fire Emblem: The Blazing Blade, around that time (the post seems to be deleted now, I got access to said group some time ago), I was seeking something new to play after wanting to cut any ties with a certain franchise (but that's another story I don't intend to dig back up), around that time, I was still using my first smartphone from 2012, a Samsung Galaxy Mini GT-S5570B, I still have it but it's nearly worthless since Google has completely abandoned Android 2.3 Gingerbread long ago — on it, I had the "My Boy!" GBA emulator, so I decided to get that ROM since the emulator works like a charm even on a boomer's phone like that.
At first, I was reluctant, because I wasn't so sure this game would be for me or so… but before I knew I was getting deeper into the plot and growing fonder of Lyn, the first character in the series I've met, I always liked her for her kind and protective characterization and she is beautiful, I specially remember entering chapter 5 in her route (the one after recruiting Florina and Wil) and saying that this was like "Wesnoth for mobile", and well… it was 2014 so ofc I was bound to make a dumb remark, but I've come to cherish this game because of how it reminded me of The Battle for Wesnoth, it's the first sRPG I played in my life and I've made an appreciation post of sorts here and summarize why I love it so much — anyway, back on to my story, this is how I came to know more of the series, I was starting with the GBA titles because my phone at that time could handle GBA emulation only, oddly enough, but I eventually could play several of the other titles at every opportunity I could seize.

---
And that's it.
Soon after starting my quest with the series, I believe as early as 2015 (or maybe in February), I was already playing Sword of Seals in Spanish right at home during summertime (and Spanish is my mother language).
I was progressing rather smoothly, taking my time to clear some of the more annoying chapters like this one in Etruria with Narcian as the boss… I eventually found my fav in a very specific cutscene:

This scene takes place in chapter 21, regardless of whether or not you made it into chapter 21x
though you should be doing it
.
But there's the very mysterious, hooded figure that first appeared in chapter 3 during Narcian's assault in a small Ostian fort that was being defended by Hector, the former marquess of Ostia. This mysterious girl who was hiding a part of her face during the first half of the game, is Idoun, the moment I saw her, I immediately fell in love with her, it's as if I knew she was
The Girl
I've been waiting for, though it's a feeling that came naturally, as if something was telling me that she's the ideal character, the one I'll definitely stand for, that was the beginning of my "story of love" with her.
Moving on, I always desperately wanted her to be playable in any game, I was looking for pics of her in Google Images one day, until I found out about a ROM Hack called "Fire Emblem Girls", as its name implies, it's a gameplay-centric ROM Hack with the entire cast of girls in the "GBAFEs", including playables, NPCs and bosses… ofc, that included Idoun, and here she is (you can find it here after scrolling down a bit, the english patch doesn't use the hack's latest version as base and only translates menus):
...

---




(And this is how good her weapon was)

---





In this ROM Hack, you can use the enemy control glitch with [Mines] like in FE7, that was a copy from the Fomortiis copy that appears at the end of [Lagdou Ruins].

---

---
I found out about that ROM Hack anyway, and was overjoyed to try her out, so I supertrained her as shown in that details blocks, she's really super fun to use.
I found about it after quitting FEH rather quickly, but I didn't return to FEH until Aug/2018 and here's my story on that if you'd like to learn more about why I returned.
If you've read the story from that time, you'll find out that I used to reroll a lot, even knowing that Idoun could be added in Mar/2019 and spent my [Orbs] the month before for a character I'm just not interested as before nowadays (Selkie) just to end up being foddered… yeah, that day was absolute pain but served as an experience to move forward in [Orb] saving.
But, she was indeed, announced that March 6th, 2019 and I regretted even further my actions from last month, so I rerolled for the last times to get both a copy of her and Spring Palla until I've made the main account you may know today, with the friend code that starts with funny number "69".

Once, I settled with that account, I've started to use my favourites and slowly work my way towards saving [Orbs], with this being the first ever report and proof of my long existence in the series:
This site has been a big factor for my own evolution as a living individual, rectifying certain behaviors and improving overall, both as a person and as a hoarder of [Orbs], but not just that, thanks to it, I had plenty of chances to talk about the characters I cherish, write about them and even grow even closer to them, to the point I appreciate them for more than just renown, looks and the basics of their characterization.
This, ofc, includes Idoun, my treasure, my best girl.
In #fe6 and even the Hasha no Tsurugi manga, she's not a super developed or influent character despite her importance to the setting, so she doesn't get much development and I get not liking her due to that, but there's still quite some info that makes up this post, and her new alt gave us some more!
All this brings us to the present, in which I want to +10 her every version in the game and make of her the true final boss she was meant to be.

Why is she my bestest girl?
Simply put, I've never felt so captivated with a character design as simple as hers was before FEH came and added her ~2y later, I find many details like the heterochromia iridium rather special, and I'm an avid lover for purple, her hair and hood while she's a Demon Dragon just are naturally pleasing as a result, she's really pretty.
But design alone doesn't carry a character to the top for me — so, while her development might leave some people with more to be desired, I actually was pleasantly surprised with what's known about her, even though this was not the case at first (because I used to play games more as a pastime and not to discover content new to me).
(Old text in case you prefer that)

---

At first, my interest on her was more spontaneous, as you may have infered from my story with her, I just had a strong feeling she'd be that one character I would preciate the most, that's been more or less holding true for the past couple of years before 2019 or so, I was more into looks, the character's popularity and a little of their story and personification.
At first, my interest on her was more spontaneous, as you may have infered from my story with her, I just had a strong feeling she'd be that one character I would preciate the most, that's been more or less holding true for the past couple of years before 2019 or so, I was more into looks, the character's popularity and a little of their story and personification.
As time was flowing, I had opportunities to appreciate more of her beauty, it felt like a divine presence, I also love so much her design, because:

She's heterochromic: the rare phenomenon known as "heterochromia iridium", means that any living being has the iris of their eyes colored differently, in Idoun's case, her left one is red and her right one is green. And that was a cool detail to me since it was very unique, Peri and Ranulf are the other known characters with it but I'm not as attached to them.
Long, light purple/white hair: in her old artwork, she was portrayed with white hair, which is her OG color, but, like with Julia, that changed in FEH, both of them now have light purple hair, but Idoun's is specially long, a little part of it was arranged in two small ties.
BUT, Idoun already had light purple hair in FE6, nonethless, I look at her hair and it's not simply very visually pleasing and relaxing, it looks so soft and smooth.
Clean and gorgeous: not an overly flashy design but that's actually good, sometimes, there's beauty amidst simplicity, she doesn't lack details though, and FEH clearly was the staple for a revamp in what she looks like, improving greatly what we had by adding golden borders to her robes with patterns engraved on them, as well as creatively expanding on her looks with a full-body series of artwork in FEH, golden and dark purple blend magnificently and I adore it. Her Spring alt isn't too shabby either! And it's a lovely concept
Pointy ears: it's not a fetish, but I'd like to see it as more of a rare and interesting trait, since it's customary for manaketes to have pointy ears in human form (not all of them though!), I always thought it was a neat and mystical trait somehow.

Ofc, this is no simple attraction, I firmly think there's no point in trying to like a good-looking character if there are no feelings towards them because of their more intricate aspects like backstory and their personalities.
In Idoun's case, she's emotionless, most of the time, showing unwavering will to serve Zephiel to replace Elibe's population with mindless war machines in the form of [Manaketes], even after his death in Bern — but that's not because she wants to, she didn't want to when she was still a Divine Dragon.
Roy finds her and uses the power of the [Sword of Seals] to weaken her, his realization after witnessing Hartmut's past has given him the ability to adapt the weapon's power to not to kill her, but to save her from being an emotionless war tool, victim to Zephiel's ideals.
In the ending of the game, she's shown to laugh after a coconut falls in Fae's head from a palm tree in the Desert of Nabata at the south western region of Elibe, specifically in the Arcadia village. That little scene made Idoun laugh spontaneously, showing signs that the local Elder's efforts to restore Idoun's destroyed soul were being fruitful, but she was still mostly emotionless and quietish, her Spring alt is based from this scene in which she's just starting to show signs of recovery.

Imo, her story is tragic but touching and she still has a little of her former self, which is really sweet, and I have hopes in that someday, I'll witness what was she like and/or how she'll behave after the events of the game.

Also, I love how FEH expanded a little on her and gave her the perfect voice thanks to Minae Noji.

And Idoun's voice sounds like this:

https://static.wikia.nocookie.net/feheroes_gamepedia_en/images/6/60/VOICE_Idunn_Dark_Priestess_STATUS_8.wav

It perfectly fits Idoun's mostly emotionless personality, sounding so devoid of emotion yet determined to stick to the goals she's been given as a puppet. The pitch couldn't be any more perfect.

And her text-only quotes do the same job excellently, but one shows well how she longs for someone to make her company:

Your hand… It's so warm. Can we stay like this a little longer?

"For as long as you'd like to."

Her Spring alt, while in her artwork, she doesn't express happiness, one of her voiced lines in the Duo conversation with Fae show that Idoun is actually laughing and having fun with Fae:

https://static.wikia.nocookie.net/feheroes_gamepedia_en/images/a/a4/VOICE_Idunn_Dragonkin_Duo_RELIANCE_14.wav

«That smile is so precious, got to protect her.»

Still, I'm dreaming that someday, she should get an alt that either delves in her possible pre-[The Scouring] persona or fully restored self some time after the events of FE6, more like a "what if", since I'm excited to learn what was she like and how she'd interact with the Summoner — nonethless, I'll still definitely appreciate her.
NVM, THAT ALT IS FINALLY A THING AND SHE'S SO PRECIOUS ASJDHFSJ.

Also, I have a bit of a tendency to like unpopular characters, not just Idoun, take Sara for example, she isn't an overly popular character and I like her so much I even dedicated a thread for her.
It's not simply pitying their lack of recognition by the fanbase, but because sometimes, they're simply very likeable for other reasons I'm always down to provide.

---
But… why don't call her "Idunn"?
...

---


At least I refuse to, at every opportunity.

I was always preferring old translations, ever since I started playing the Fire Emblem games, one of the reasons why I didn't want to accept the Awakening game and any entries in the series released after — I felt the older translations were more my liking, I was clearly not thinking if that's what I really wanted and why, but now, I have the feeling this helps preservating the older aspects of the Fire Emblem culture, and it's a way to express knowledge and experience acquired throughout years of playing and discovering new horizons, I've also simply grew attached to them.

Admittedly though, I was using the new names for most of the characters before I knew, such as Julia and Brunnya… but Idoun has stuck on me with all the times I've played with the old translation of her name in Fire Emblem: Sword of Seals and simping admiring her.


The only instances you'll see me referring to her with the proper translation is when I need to send any form of input to @Intelligent_Systems for their understanding, or when I'm interacting with an artist as they're likely not familiar with her, or are but not enough with the older translations.
Also, the name of the goddess Idoun is based on is "Iðunn" (with the eth letter), but that might not necessarily count.

---
Her themes
Idoun has three themes in Sword of Seals, the first one plays in dialogue involving her and the flashback that Roy saw, from Hartmut's memories: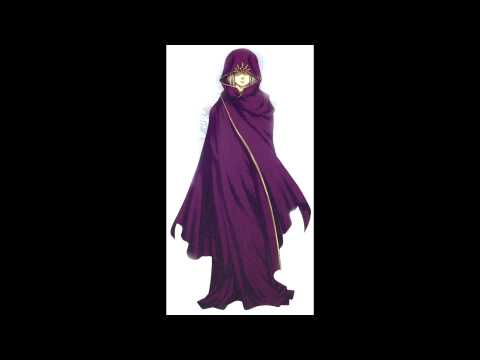 It's A.K.A.:

The second one is her battle theme, I've decided to extend it myself since the longest extension is of 10m and there's an arranged version floating around also. Please don't watch it directly if you're epileptic! Also, more information about the visuals being used is offered in the second link right below: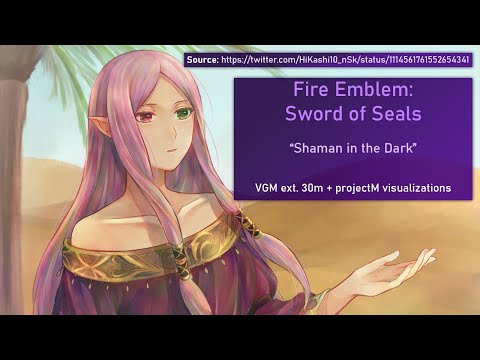 The last one, is the credits one, while not explicitly expressed to be her theme, she sometimes talks about a "warm breeze" to describe her feelings, and this theme is a motif of her scene BGM: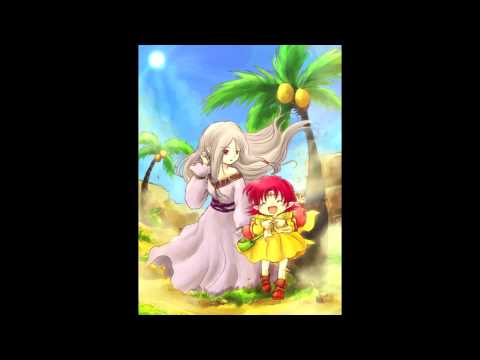 A special dedicatory
I have developed a strong interest in the SNES APU, the sound subsystem integrated in the famous console by Nintendo, and specifically one of its components: the SPC700 sound processor that Ken Kutaragi made when he was working at Sony, which handles the core aspects of every game's audio.
Although I'm just learning a very few bits here and there, a small graphical view of what's playing in said chip has started to draw my interest for… learning about it and composing music with the power of the SNES audio capabilities, a lot can be done with 8 channels, sampled (and heavily compressed) instruments, 32KHz of sampling frequency, 64KB of ARAM (of which 58KB is allocated for samples) and some other wonders like the so-called expansion flags, anyway, here's the visualization, and is the simplest SPC700 status viewer you'll ever find (there's Kurohane's and that of SPCPLAY but I simply don't like these as much):


(Visualization available via the Game Emu Player plug-in for Foobar2000.)
So, using a dedicated tracker tool I found around that easily allows users to create music with the limitations of the SNES, I've decided to make an arrangement of Idoun's dialogue theme from #fe6, it's not that great certainly, but I enjoyed working on it at the time, I hope you'll like it!
Do note this is my first arrangement, and it was done by ear, so the result isn't perfect. It was also done with Bazz's SNES Tracker which hasn't gotten updates in over a year sadly, but I found another solution that I think works better for me for the time being (using OpenMPT with an IT->SPC tool).
Neverthless, I hope you like it, and if possible, take on the recommendations at the intro of the video!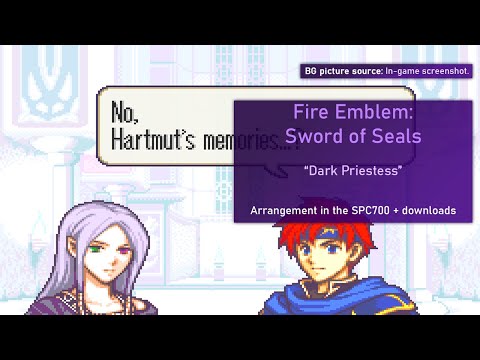 If any of the links don't work then please notify me! I'll still check them sometimes but it never hurts to get a comment about that, thanks!
---
Part 2 right below because I'm hitting the limit of 32k characters per post.