It was a long wait, but at it's here! Let's have a Knight on the Gatcha and dance! The Camelot crew is back!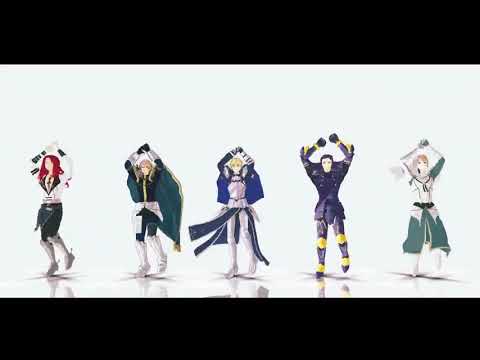 The Knights of the Round Table are back together again for their tour on the NA server stage

Let's give them a round of applause before we introduce everyone

As we start traversing the perilous singularity, we join forces with a Knight of such shining loyalty that he refuses to die, Sir Bedivere!

He's a force to be reckoned with, and an elusive storylocked 3*.
Danger awaits us with our first gauntlet of the singularity. Fueled by the power of the sun itself, ready to weed out unprepared masters, Sir Gawain!

With his recent upgrade, he can bring light to the darkest night or cave where evil lurks and blind them with his brilliant busters. Don't miss this chance for your own piece of sunshine usually locked in the story banner.
As we continue our journey through the singularity, we encounter a the sad haunting sounds of the knight who fights with his harp, Sir Tristan!

He's ready to protect his team as he releases a storm of arrows that knock stars right out of his foes. Plus some python named Monty helped write his interlude and he's got a nice RUQ for a much appreciated self buff in spring of 2023. Act fast before he gets locked away writing his next song.
Deeper in the singularity we'll find the Knight of the Lake before his decent into madness ready to defend any fair maiden he sees, Sir Lancelot!

Perfection from release, and always available to answer your summons, he will rain down the might of the stars in and endless stream of critical blows until the foes are no more. Just keep his daughter close in case he gets out of line.

Cross the desert and find an unlikely ally. Personification of the sun itself, look on his works ye mighty and the 2 year wait for his RUQ and despair! The Pharoah Ozymandias!

While waiting for our Pharoah to learn how to summon the sun on demand like a certain knight, please enjoy some star spangled kittens for valentines. They are purrfectly well behaved.

And where would we be in this wasteland without our one and only, beautiful and spectacled, self proclaimed genius and her inventions including the car to travel in style? Let's give it up for DaVinci, here for a limited time only!

Please be sure to check the autograph line schedule so that you can summon the right knight on the right night.

Best of luck to all Master ready to take advantage of this opportunity!
SQ reserves dependent, results may vary.