Let's get that free grail and tickets, boyos.
"Free", he says…
This mode is Stress-incarnate.
I'll tackle the first Skirmish this evening…
Herc took care of everything by himself. Gave him a guts CE from Nerofest since I don't have his bond one, then clicked red and everything was dead.
Scheherazade rushed the Guts, took an attack from Izo and attacked back for the kill. Salome sat on defense nearby in case Ryoma rushed in.
Scheherazade then moved up two tiles to grab the attack buff and intercept Nero for another 1-2-kill.

Then Salome dealt with Ryoma's advance while Taiga ran down the flank to take out Robin.

Super easy. Used Vlad, Enkidu and Queen of Sheba.
Remember that the AI is stupid. That's the key to winning Grail Front easily.
Different maps have different patterns, but you can often bait the AI into overextending simply with your own movement; otherwise, you can throw them a sacrificial lamb and then pounce with your powerhouse Servant.
In this first map, Arjuna Alter walked all over everyone but Okada-kun, who went after Merlin and got obliterated.
Through a combination of being as busy as it'll likely get this, not being super sold on grailfronts and running out of patience for valentine's this one's probably shaping up to be not much more than an opening to flex my atrophied speedrunning musculature.
Wondering what kind of timeframe I'll be operating within, 3 hours seems like a fair if cautious first estimate.
Okada killed himself on Shuten, Cuzilla ungabunga'd everything else, and Enkidu was there for moral support.
First one easy peasy. Had Herc hanging around in back but he never even saw action. OG Cú and L100 Xuanzang wiped the floor with everybody and only took a bailout once.
All the standard-issue Cú are freakin' great for Grail Fronts, they're low-cost and three Evades means at least one round of no-selling just about anything that isn't coming in with Sure Hit activated.
Won this one with Cú attacking the enemy Master. He said there was something familiar about it that he couldn't put his finger on.
on first day:
Jalter being able to take hits and durable helps. Used her with a buster ce and
lv100 gareth with mlb prisma cosmos
Not directed related to the Grail Front itself, but:
Caligula's newly updated Bond 5 line is now my favourite My Room line in the game.
Haven't tried the new maps yet, but since there's no roll-thread, I'll just put it here:
Saw that ROMA was on rate up. Threw in a single ticket. Now I have NP2 ROMA.
I don't know why though. I never used him seriously, ever (as in, for more than doing silly facecarding runs on the Archer daily for lulz), but random luck is still nice.
…Okada got suicide tendencies.
No intro, just GFs.
I'm disappointed.
Not much of a story person myself, but Caligula's lines and Bond CE stick in my mind as some of the best.
This event doesn't even have a plot ?
Damn, i guess they were in crunch time mode to get LB6 ready back when this was getting released in JP.
Yeah the grail fronts are super easy, you don't even need a stacked roster, a brand new player can beat this with relative ease. Just follow some instructions and easy grail. Here is an example (not my video);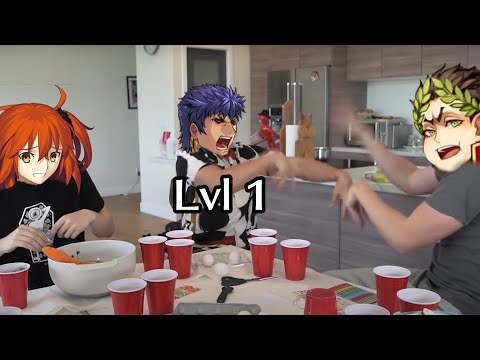 So uhh. Does this really need the length of a regular event?
Not much to do.