The upcoming Lottery Event will take place sometime in early November 2022 and requires completion of LB6 in order to participate in the Main Quests of the event. Players who have cleared Fuyuki but not LB 6 will still be able to participate in the Event but not the Main Quests.
A Campaign will run from the 2nd to the 9th to get players ready for the event.
A special login bonus will run from the 3rd to the 10th and will reward 1 Golden Apple a day.
A limited Set of Master Missions for Advanced Quests will be available during the Campaign. Clear 3 Advanced Quests to earn 5 3* HP Fous, 5 3* ATK Fous, and 3M QP.
All Ember Gathering and Training Ground Quests will be available during the Campaign.
There will be 1/2 AP for all Interludes and Enhancement Quests.

Summoning Banner featuring Morgan and the Valentine Witches CE
Event News
Pre-Event Campaign News
Stream to start on November 9th at 1900 JST. Stream will cover information on the upcoming Winter Campaign and last information on the event before it's probable release after the Stream.
The following people will be involved:
Ayako Kawasumi (Artoria)
FGO Staff
Stream info
Youtube Stream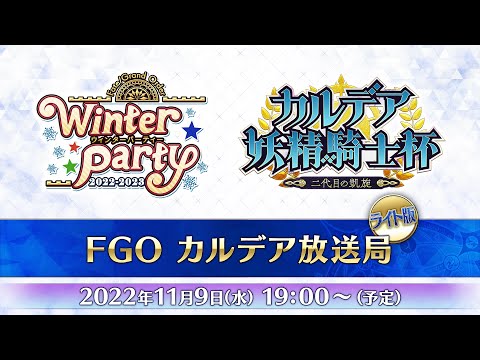 Live translation by Tolovetrouble

Recap
Summary
Winter Party Information
Game information