Our 3* unit (remember when those were free upon completion of the chapter?) for our new Lostbelt is Mandricardo, the Saracen king of the Mongols by an Italian poet in a work set in France. Confused? Well, as least he isn't genderbent to boot.
Now, he is being added to the general pool, but before you start spamming that FP gacha remember that they're normally not added until their debut banner ends. So you've got a little bit of time.
Skills:
S1 plays, to me, a little strangely. It's a selfish Defense buff (30% for 3 turns) and a party-wide Charisma (20%). I'm very glad that base Charisma skills are mostly gone by the wayside, but the addition of a survival tool for someone not long for this world is strange. Oh well.
S2 is the reason why I don't care for his Defense buff - it's a selfish buff that only activates if his HP is below 50% (so you don't want defense buffs - then S2 won't work). It also causes him to die after 1 turn (so you don't want defense buffs - he self-Arash's anyway). If you're able to use the skill though, it's a good one. For 1 attack on that 1 turn, he has a 50% Attack boost, a 100% Crit damage boost, and removes enemy defense buffs when attacking. This is great for an NP-led, crit-fueled brave chain to delete a break bar and let your main DPS swap in without using plugsuit.
S3 pairs a 20%/3-turn boost to his Quick and Arts cards with a 1-turn taunt. If I'm being generous, you use this skill and his defense buff to keep him alive while also hopefully taking just enough damage to use his S2, but
Because he seems geared to die, I'd rather a full 50% mana burst instead of a 3-turn smaller dual color buff but again I'm not in charge of kit design.
Skill (and Ascension) Mats:
He needs Dust, Chains, Horseshoes, and Medals for his Ascension mats. He further takes Chains, Dust, Horns, and Crowns (a new Silver-tier mat) for his skills.
Mat Farming Locations and (Approximate) AP Cost:

Total: 12,394 AP/// 43 Days (Natural AP regen)// 89 Gold Apple Refills.
Verdict:
All of his skills boost his damage, so they're all fairly valuable to him. I'd for sure raise s2 first, then s3, then s1 last. Skipping Lores and leaving any of them at lvl 9 is probably fine and won't cause you to miss out on much.
NP:
His NP is a ST Arts one that, again, is meant for 1 turn of burst damage in a Brave chain. It pre-buffs his decks (20% for Arts/Quick/Buster, depending on OC), deals damage, and then lowers his Attack for 1 turn by 10%
so that would hurt him a bit on further damage but hopefully it's offset by his Charisma and S2.
It does from 27k —> 45k damage, neutral, and then 38k —>64k @NP5 if you have his s2 active. At the high end, that puts him on equal footing as an NP3 Quetz or non-Male riding NP3 Medb, well over NP5 welfares Ryouma or CinderEli (just as a partial list) and completely outclasses Ushiwakamaru and…uh George? Those are the only 2 ST 3* and below Riders? We need more of them.
Outlook:
Mandricardo has a good bit of burst damage, and a good-for-his-rarity amount of regular damage if you want to keep him on the field for a long time and pretend his S2 doesn't exist. He's not due for any buffs in the next 2 years and doesn't have any of the traits that would allow some future supports (not Chaotic or Evil, not a Existence Outside the Domain) but he looks very solid to me anyway.
Final word
If he's anything like William Tell, I'm going to be rolling the FP gacha for months and months without anything until I get 30 copies summoning on a regular banner bc the FP gacha is unreliable at best. Save those FPs for Nobukatsu now
EDIT:
As was pointed out to me by @vii575 , I misread how his s2 works. It doesn't kill him after that turn, it kills him after the next attack. So if you used it for his NP, he dies at the end of it and couldn't continue a brave chain. If you gave him Guts, he'd survive, but then would die on the next attack in that same turn as well.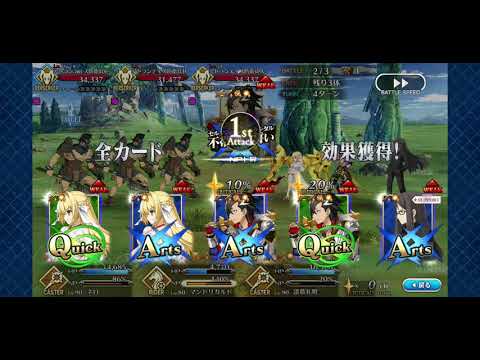 See this video.